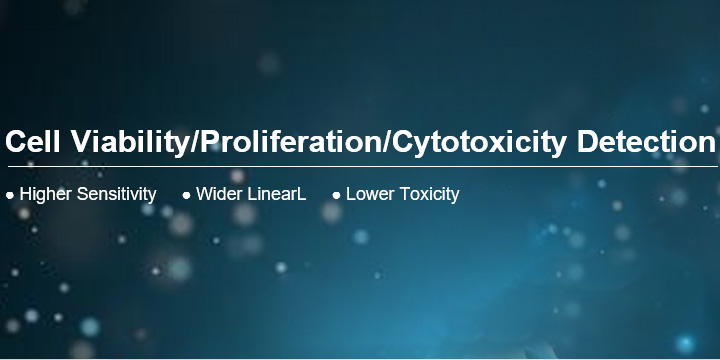 Cell Viability, Proliferation, Cytotoxicity Detection
Cell proliferation is an important life characteristic of organisms which is used to replenish senile or dead cells in the body. MTT Assay Kit (Cell Proliferation) has been widely used to detect cell proliferation and cytotoxicity. In recent years, the CCK-8 method has gradually replaced the traditional MTT method because of its high sensitivity and non-radioactivity.
Elabscience® Enhanced CCK-8 kit is more sensitive and with wider linear for detecting the number of living cells in cell viability, proliferation or cytotoxicity test.
Why Choose Elabscience® Cell Counting Kit 8 (WST-8 / CCK8)?
| | |
| --- | --- |
| | High sensitivity |
| | |
| --- | --- |
| | Wide linear and perfect reproducibility |
| | |
| --- | --- |
| | Low toxicity, simple operation |
| | |
| --- | --- |
| | Multiple applications, drug screening, tumor drug sensitivity etc. |
Other Cell Detection Products
Apply for TOS and TAS Assay Kits
My Cart
Product Name
Size & Qty
Price